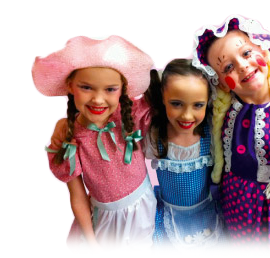 Juniors | Classical Ballet | Open Ballet Classes | Recreational Ballet | Jazz | Hip Hop (Street Dance) | Contemporary Dance | Adult Dance | Tap | Acrobatics | Musical Theatre
Juniors
Tippy Toes (3 – 4 years)
Tippy Toes is a special class for our youngest budding dancers.  Students are supported to begin to follow instruction whilst developing coordination, musicality and balance. Above all, they have fun!
Tiny Tutus (4 – 5 years)
Tiny Tutus introduces slightly older children or are 4 years of age and above to dance.  The class explores the body's dance capabilities, and the world of rhythm and music.  Students continue to develop their coordination and balance and appreciation of music, in particular classical music.
Prep Ballet (5 – 6 years)
Beginner Ballet prepares children between the ages of 5 – 6 to the concepts of ballet.  Children are encouraged to explore basic body alignment to build safe habits for future work.  Some opportunities for imaginative dance are provided as well as children learn to move in formations, groups and lines. Children are also introduced to the basic discipline and class structure concepts necessary to participate in the RAD syllabus method.
Classical Ballet
Pre-Primary (5 – 6 years)
Students are introduced to the Royal Academy of Dance syllabus.  The syllabus is designed to develop children's physical skills, stamina, creativity, expression and musicality using a range of sounds and musical styles.
Children are encouraged to participate in the introductory class award teacher-led exam process each year.
The Class Award requires students to attend 2 lessons per week (one weekday and one Saturday). Children who choose not to participate in the class award process can attend one class weekly, preferably the weekday class.  Students who have turned 5 by the 1st January are encouraged to participate in this class.
Primary (6 – 7 years)
Students follow on from the concepts they have learned in the Pre Primary Syllabus and are introduced to more advanced steps, concepts and sequences.  This is the first of the solo award examinations whereby students are in the examination room without a teacher.
The commitment requires students to attend 2 lessons per week (one weekday and one Saturday). Children who choose not to participate in the examination process can attend one class weekly, preferably the weekday class. Students who have turned 6 by the 1st January or who are new to dance and between the ages of (6-7 years) are encouraged to participate in this class and examination process.
Graded Examination Classes (1 – 3)
These classes are the first three examination classes in a suite of eight grades from Grade 1 to Grade 8. An entry pathway to Grade 1 is provided by the RAD's Primary in Dance syllabus.  Although not a prerequisite for attendance in Grade 1, participation in the Primary examination process is strongly encouraged.
The following are the progression pathways for the dance syllabus.
Please talk to your individual teacher in regards to your child's progress and suitability to an exam.
RAD Grade Examinations Classes (4 – 5)
RAD Graded Examination Classes (6 – 8)
Intermediate Foundation to Advanced 2.
The Intermediate Foundation level is the first in a suite of five levels. An indication of required knowledge, skills and understanding in ballet is required to enter the vocational examination classes. Please talk to your teacher for guidance.
Open Ballet Classes
Open classes are ballet classes that do not follow a set syllabus.  Students follow a ballet class format (barre and centre work) with the teacher demonstrating 'unseen' work.  This is simply exercises/enchainements that they have not seen before.  Time is also devoted to technique refinement in this class.
Junior (Grade 2 – Grade 5)
The junior open class is a basic level open class to introduce the concept of unseen work.  Students have the opportunity to also fine tune their technique, increase their confidence in following directions.  A level of maturity and confidence is required to participate in the class as students are encouraged to think quickly and develop a sense of their own style to their dance work.
Combinations will include a mixture of already learnt dance steps through their RAD syllabus content a well as introduction to new steps  (ie, turns and jumps).
Intermediate (Intermediate Foundation – Intermediate)
It is expected that students who participate in this class have had some experience in open classes either through the progression of the junior class or an external opportunity (ie. BTQ, Queensland Ballet Junior Program).
A high level of maturity and confidence is required to participate in the class and students are encouraged to apply a strong sense of discipline which would be required for audition classes etc.
Combinations will include a mixture of already learnt dance steps through their RAD syllabus content a well as introduction to more challenging steps and enchainements.    (ie, turns and jumps).
 Senior (Advanced 1 and above)
This is an advanced open class whereby students are expected to conduct themselves professionally and confidentially.  Combinations will be challenging and students will be encouraged to 'think outside the square'. Teachers will often only demonstrate combinations once and students will be required to be able to watch carefully and be expected to perform the enchainements.
Recreational Ballet
Recreational  ballet are fun classes designed to develop confidence, flexibility, fitness and coordination, musicality and foster the love and enjoyment of dance.  Students do not participate in ballet syllabus exams and are welcome to join our end of year production.
Progressing Ballet Technique, Strength and Strengthening Class
Suitable for Grade 1 Ballet and above 

The progressing ballet technique class is a wonderful complement for the all genres of dance, in particular ballet.  The class helps students understand muscle memory training in order to achieve their personal best in classical ballet.  The program uses muscle memory to improve students understanding of cores stability, weight placement and alignment. Class are conducted using a fit ball and yoga mat.  Within the class the students have the opportunity to see how the exercises can assist their ballet training as well as do stretching and strengthening exercises. 
Jazz
Although not essential, it is highly recommended that students participate in a ballet class (RAD or Recreational Ballet) each week to improve their jazz technique.  The two genres work well together.  
Beginner Jazz (4 – 6 years)
Jazz Level 1 is the entry-level jazz class.  The foundations of jazz technique are established along with basic coordination of jazz choreography.  Students need to be able to follow direction identifying left and right as well as some basic body alignment knowledge.  Students may stay in beginner jazz for 2 years. 
Foundation Jazz (6- 8 years)
Jazz Level 2 builds on the jazz foundations level class.  Students are required to have a higher level of discipline and begin to move fast and use optimum energy and effort.  Patterns and directions are introduced as well as basic combinations and choreography.  Students start to develop the technique required to turn, leap, jump and particulate in floor work.  Maturity is developing in the class.
Intermediate Jazz (8 – 10 years)
Jazz Level 3 class students are required to have some basic understanding of jazz and ballet technique.  The class is faster paced, uses maximum energy and effort.  Jazz technique is refined and the steps, patterns and choreography begin to be more complex.  Students build on the foundations of jazz technique in turns, leaps, jumps and floor work.  Mature is essential for this class.
Senior Jazz (10 – 12 years) 
Jazz Level 4 class is the foundations for advanced jazz.  Students can expect to say in this level for some time to refine and strengthen their jazz style and technique.  Levels from high, medium and low can be moved seamlessly.  Coordination of the legs, arms and body are working at a higher level and difficult tricks are introduced.  Flexibility and stamina will be developed. 
Advanced Jazz (13 years +)
This class is an advanced jazz level class and students need to have at least 4-5 years of experience in dance.  It is a great workout!  The student can expect to be pushed beyond the boundaries.  Footwork is fast and students are beginning to perform choreography in a professional manner using various styles such as cabaret, prop work, street jazz and Broadway. 
Hip Hop (Street Dance)
Hip Hop Level 2 (7 -11 years)
Hip Hop dance refers to street dance which is primarily performed to hip hop music. The class introduces students to the primary concepts of breaking, locking and popping.   The concept of freestyle (improvisational) is what distinguishes hip hop from other dance styles and this concept is introduced to the class.
 Hip Hop Level 3 (12 years +)
This class follows on from the early concepts introduced in Level 2.  It is designed for those students seeking a greater challenge.  It is action packed and high energy with a greater emphasis on presentation and high-level skills.
Contemporary Dance
Contemporary Dance Junior (8–12 years)
 Contemporary Dance Senior (Advanced 1 and above)
Contemporary dance draws on both classical ballet and modern dance.  It uses both the strong and controlled legwork of ballet and modern dance's emphasis on the torso.  There is often more floor work. Fall and recovery, improvisation, unpredictable changes in rhythm, speed and direction.
All work is technically based, therefore a strong understanding of classical technique is required, especially in the advanced classes.
Adult Dance
Adult classes are a fun and satisfying way to improve muscle tone, flexibility and coordination as well as improving dance technique. Ballet also challenges the mind, the memory and coordination.
Classes cater for all levels of ability from those who have some knowledge of classical ballet to the basic beginner.
Tap
Beginner Tap Level 1  (5 – 7 Years)
Tap classes follow the TAPATAK OZ syllabus. This is a modern syllabus that teaches dynamic rhythmic variation with an emphasis on personality, performance and choreography. For more information and to view some of the tapatak oz syllabus you can go to tapatakoz.com.au.
 Tap Level 2 (7 – 9 years)
Students begin to move on to learning the basic tap technique, teaching weight placement, correct alignment, tonal quality and clarity of beating.
 Tap Level 3 & 4 (9 – 12 years)
This class builds on the foundations and techniques of level 1 and 2 and is perfect for those students who would like to learn more challenging steps and combinations.
 Tap Level 5 and Adult Tap (13 years and over)
This class is perfect for those who have reached a high standard or can pick up challenging combinations.  Students need to be able to tap with speed and accuracy.
Acrobatics
Acro blends dance with acrobatics.  Students focus on developing tumbling skills, core stability, strength, technique and flexibility.  The class works on developing solo tricks commonly performed in dance routines such as walkovers, handstands, front aerial, bendbacks, elbow stand and cartwheels.
Musical Theatre
Junior
This is a fun yet intensely exciting class that combines singing, dancing and acting! So many current Musicals, aimed at children, are being turning into movies and kids love learning the dance sequences and lyrics fro their favourite songs! Characters and styles of dance are explored and children aim to have a full item to perform for the parents by end of term viewing day!
Senior
Senior Musical Theatre students will expect to learn about all aspects of the Musical Theatre industry! This includes different dance styles from both traditional and modern musicals, singing and characterisation techniques, stagecraft as well as tips for successful auditions for the theatre industry! Students will also work on a number of pieces throughout the year and perform them for parents at the end of term viewing day!