WAKERLEY ballerina Amelia Townsend has been selected for the nation's premier ballet school.
The nine-year-old was chosen by the Australian Ballet School (ABS) to join its interstate training program, known as a launch pad for professional ballet careers.
Her mother and teacher Annette Roselli said Amelia was chosen for her "facility and aptitude for vocational training in ballet."
"It was very exciting because she really wanted it," Ms Roselli said.
"It's very tough, they only take a few, so we were never really sure."
Amelia will travel to Melbourne for a week each term in 2009 for specialised coaching classes and intensive training sessions, plus extra work with ABS teachers in Brisbane.
Each year, the ABS chooses up to 20 dancers to join level one of the three-program, out of hundreds of hopefuls nationwide.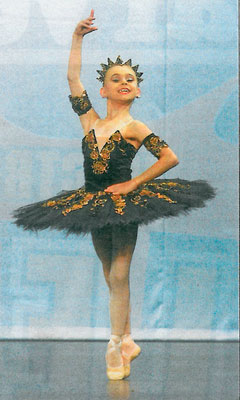 This year, Amelia proved her worth on the dance floor and several eisteddfods, walking off with many titles including most promising dancer, grand champion and most outstanding competitor.
Prestige school calling . . . Amelia Townsend will travel to Melbourne for training at the Australian Ballet School.
By DESIREE DUNCAN