Her selection as the only Australian student for The Royal Ballet School's 2008 intake is the latest achievement for Chandler ballet dancer and former Moreton Bay College student Lily Spencer.
But Lily, 14, who last week left Australia with her mother for the prestigious school's junior college, White Lodge in London, remains grounded in her attitude towards her accomplishments.
Speaking to the Wynnum Herald just moments before she went on stage to perform her farewell dance for the school community in August, she said she was nervous about the move.
"But I'm also excited and it will all balance out in the end," Lily said.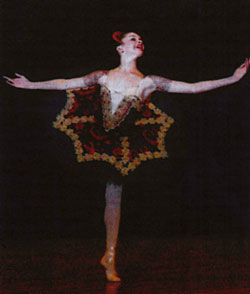 "I'll learn more ballet technique and more about the theory of dance.
"I'll be going into year 10 where I'll continue my academic studies as well as ballet training."
After Lily completes her two years at White Lodge, she hopes to be accepted into Covent Garden, "and after that, hopefully, the company."
The Herald YoungStar joint winner for 2008 began dancing at the age of four with Manly West's Annette Roselli Ballet Academy.
Ms Roselli said Lily's acceptance into White Lodge was well-deserved.
"She has put in all the hard work, dedication, determination and hours - she was standing out by the time she was 10." Ms Roselli said.
"It's fulfilling and rewarding because she's been with me from the beginning."
Right: Lily Spencer performing at Moreton Bay College.
Quest Newspaper